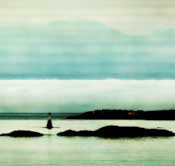 Unlike their literally interpreted counterparts, these images are not focused mainly on details, they try to reflect spirituality. Photos of ethereal light patterns are used as a painting tool applied on foundational image.
Owen Brock named this technique photo fusion which is a juncture of design and photography. His long time fascination with the spiritual sense of light brought him to the point where he would take photographs of light reflections and start layering them on top of the image using Adobe Photoshop as a dark room. The first photofusion image was born about five years ago. Since then Brock has been using this technique as an artistic tool in his Photoshop studio to create contemplative and imaginative works of art.
Arts Connection of Cincinnati: How would you explain the idea behind photo fusion?
Owen Brock: The photo fusion work is the idea of exploring things in a deeper way rather than skimming across the surface. I want to capture more than just the details but some of the imagination. It's not literal interpretation of the image but a slight abstraction from what a photograph captures. I am trying to achieve painted looking images – something half way between painting and literal photography. I treat images in a faithful way but add transcendence on more of a spiritual level.
What techniques do you use for creating photo fusion images?
I collect images of light. I might wake up in the morning and see the light fluttering on the walls of my bedroom. I am fascinated with light, the way it moves and diffracts. I think light has a very spiritual quality. I take pictures of light patterns and paint with them on image like on canvas in Photoshop. It creates a little bit more of shadow and translucent quality.
How did your background and life experience contribute to your current professional activity?
I grew up on an island off the West Coast of Canada surrounded by nature and beauty. I did a lot of camping and hiking and immersed myself in nature. I think that made a strong impression on me.
We lived in a house that faced the ocean. At an early age, I saw a lot of ships from other nations and I developed a sort of wonder. When I was old enough, I stuck my thumb out and after working on ships for some time landed in Europe for several years.
Please read full article in Winter issue